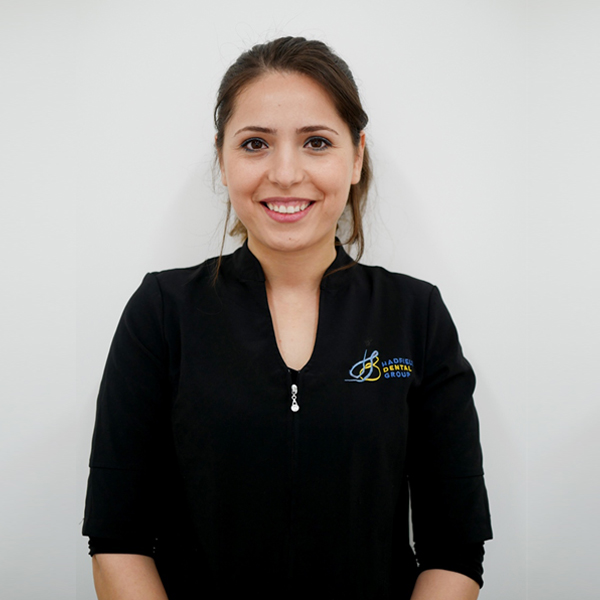 Qualifications:
Bachelor of Health Science in Oral Health, Graduated 2011
Special Interest:
Gum Treatment / Cleaning, Root Planing, Oral Health Education, Teeth Whitening, Preventative Treatment, Restorative Work
Clinic Hours:
Monday 9:00 AM – 5:30 PM
Tuesday 9:00 AM – 5:30 PM
Wednesday 9:00 AM – 6:30 PM
Saturday 9:00 AM – 3:30 PM
Oral Health Therapist, Part of the team for 3.5 years
Miss Sepideh Parvaresh found her interest in oral dentistry whilst at school, she then went onto complete her Bachelor of Health Science (Oral Health) in 2011 and has been a member of the Hadfield Dental Group for the last three and a half years.
"I enjoy Hadfield Dental Group as there is a diverse group of patients culturally and we provide a complete range of treatment from teeth whitening to oral surgery and implants."
Miss Sepideh Parvaresh's role in oral dentistry has provided her with an opportunity to combine her passion for healthcare, helping people and working with children. She provides quality treatment to adults and children in a relaxed, comfortable and nurturing environment and strives on delivering holistic and comprehensive dentistry. Miss Sepideh Parvaresh takes pride in being very thorough with her work and always seeks to learn new skills as she develops in her profession.
"I enjoy seeing patients become healthier and happier after improved oral health. I also believe it is important to provide oral health education and positive environment for children and teens to ensure good oral health and overall health in future."
Outside of work she enjoys nature, outdoor activities, hiking, fitness as well as spending time with family and friends.