Fixed orthodontics is not used only for a more beautiful smile but a healthier smile as well.
It is recommended for people with misaligned or overcrowded teeth to have braces to correctly position their teeth, jaw joints and chewing muscles. This procedure helps reduce jaw aches and improves gingival and dental hygiene in the future, allowing easier brushing and flossing of teeth being in improved alignment.
Orthodontic treatment is an important investment for your future. While you are wearing braces, it is essential that you take care of your teeth and gums. Brackets and wires have many nooks and crannies that can trap food and plaque.
This means your risk of tooth decay and gum problems may be higher while you are wearing braces. You need to pay special attention to cleaning your teeth every day, to your diet and your regular 6 monthly cleaning appointments become extremely essential.
We will provide you with a take home care package to help you maintain good oral health practices.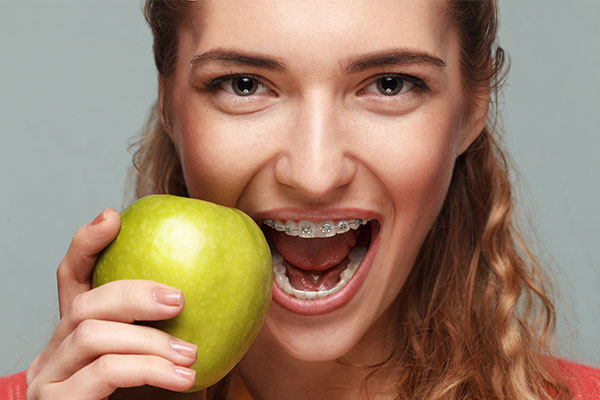 Your Orthodontic Hygiene Kit Will Contain
Wax
An orthodontic toothbrush (specially designed toothbrush for cleaning brackets and teeth)
A disposable mirror (for you to check for yourself that your cleaning efforts are adequate)
A timer (to time your brushing)
Floss and floss threaders (tie the floss to the threaders in order to thread it through above the brackets)
Give us a call to find out more about your orthodontic options.
After Care Tips
Please be aware: The brackets are cemented to your teeth, however your teeth are a very smooth surface, making the cement loosen easily. Also if you are biting directly onto the brackets, this will cause them to break off. This cannot be prevented until your teeth move.
After the initial banding you may be uncomfortable with the brackets and/or wires digging in to your gums or cheek, the wax which we have provided for you will prevent this. Just cut off a tiny piece and mould it between your fingers, place and press it firmly to mould it onto the offending bracket or wire.
Super floss, or equivalent, is recommended, which can be purchased from your local chemist, this has a stiff string at the front, used to thread between your teeth, up and underneath your brackets. Regular floss cannot be easily used above the bracket as it is too difficult to thread it into the gaps between your teeth.
Do brush after each time you eat, even after snacks. If food is left trapped in and around bands and brackets it can begin to decay the teeth leaving permanent white marks. If you are unable to brush, rinse your mouth thoroughly with water after eating.
Do not bite on ice as this can shatter the cement holding the bands and brackets.
Do not play with the brackets with your fingers, as you are transferring bacteria from your fingers to your mouth, it can also cause your brackets to loosen up.
Do cut raw vegetables and hard fruits such as apples, carrots and celery into bite size pieces.
Do not eat caramels, toffees, hard or sticky candy, popcorn, potato chips or chewing gum (even sugar free).
These can cause loose bands and brackets which may delay treatment time.
Do not bite your nails, chew pencils or pick at wires as this can break brackets. Be aware of these habits and make an effort to stop them. Damaged braces mean extra appointments, inconvenience and extended treatment time.
Please call our office if you notice a loose bracket, or if one of the wires is digging into your cheek or has popped out of its holder.